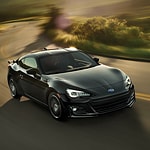 The Subaru BRZ has been around for a few years now, and everyone knows how easy it is to drive. The Subaru BRZ is the perfect vehicle to practice good driving habits in as it doesn't have too much power, and all of the controls are at your fingertips.
Subaru worked hard to ensure that the cabin of the Subaru BRZ was as driver-focused as possible. This means that all of your essential controls are in ergonomic and intuitive positions. You also get features like sport seating that will help keep you planted when you are doing intense cornering.
The reason the Subaru BRZ is such a popular sports car is that it is an effortless car to have fun in. If you want to experience this fun for yourself, you can take a test drive at Giles Automotive. Our team would be more than happy to get you going on a joy ride around Lafayette, LA.