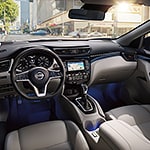 If you want to take your Nissan Rogue Sport to the next level, then you will want to look at the many Nissan accessories that are available for the SUV. Right now, there are hundreds of exterior and interior accessories available. Here's a look at two of the top features.
You want to make sure that you are away from any small impacts on your vehicle. That's why the Nissan Rogue Sport here at Giles Automotive can be equipped with an impact sensor. This sensor is designed to release an audible chirp, from the horn, when something impacts your SUV.
Do you like to go on camping trips and other outdoor adventures in the Lafayette, LA area? Then you will want to take the Nissan Rogue Sports hatch tent with you. This tent can attach to your Rogue Sport and provide up to 100 square feet of space. The tent can also be quickly converted to a standalone model.