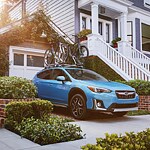 The Subaru Crosstrek is a popular compact crossover that is enjoyed by those who love adventure and style. This car will not only get you to where you want to go, but it will also do so in style. Consider the versatility and great engineering features that go into making a Subaru Crosstrek!
Giles Automotive in Lafayette, LA offers a good understanding of the versatility offered in the Subaru Crosstrek. If you want a car that has great gas mileage, all-wheel drive, and good ground clearance, then this vehicle is a smart option. You can also enjoy the premium audio system and raised roof rails for transporting all of your equipment.
The Subaru Crosstrek comes with a Subaru Boxer engine, and it's housed in a steel body. This car was built to weather the storm and get to those hard-to-reach places. Planning your next adventure trip is much easier when you plan on taking the Subaru Crosstrek. Stop by for a test drive today!